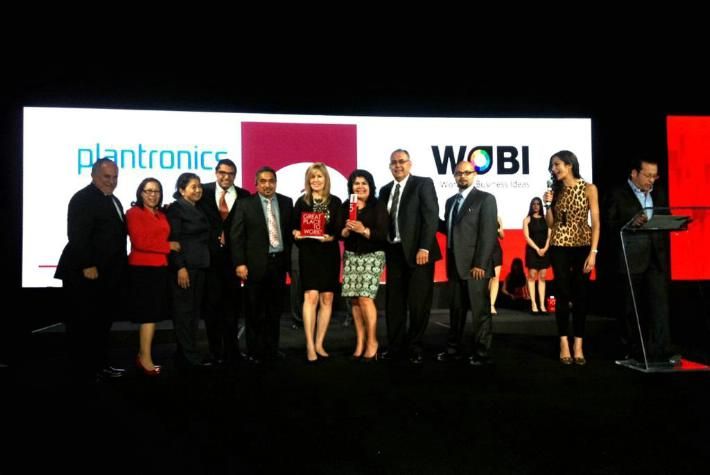 PLAMEX, a Tijuana based company was recognized as the "Best Place To Work in Mexico", for the forth year in a row. This distinction exemplifies the advanced human capital programs implemented by manufacturing companies in Tijuana.
Plamex (Plantronics Mexico) is a manufacturing facility dedicated to building audio communications technology. It has been operating in Tijuana for more than 40 years, employing over 2,000 people. Recently, they consolidated its 4 operations under one roof. The new facility has a soccer field, gym and basketball court in addition
to new equipment that supports molecular coding on equipment, and a new engineering lab.
A great place to work, as defined by the Great Place to Work Institute, is "a place in which you trust the people you work for, have pride in what you do, and enjoy the people you work with." Employees from more than 500 companies participated in the survey to evaluate their companies on credibility, respect, fairness, pride, and camaraderie.
Manufacturing facilities in Tijuana employ approximately 166,311 people. Programs at the Mexico facility include educational opportunities that help employees further their education. The educational support programs at Plamex have helped employees attain more than 2,300 degrees. For the past five years, there have also been development programs that have enabled
more than 1,000 employees to grow into new roles in the company rather than leaving Plantronics for professional growth opportunities.
This talent has contributed greatly to the success of manufacturing facilities like Plamex, who through their engineering center establish partnerships with local universities to identify skilled engineering students who are later invited to work in the company. The Tijuana Design Center now employees 110 people, who are dedicated full-time to
research and development of new technologies and work closely with multiple Plantronics´ Design and Engineering centers.
According to Alejandro Bustamante, Plantronics Senior VP of Operations, success has been a result of the companies work culture, which is based on living their values by continuing to support employees through such programs. Plantronics Great Place to Work Corporate Communication
Other Tijuana companies that were also recognize this year include: Welch Allyn de Mexico, Greatbatch Medical, Gasmart, Harman de Mexico Planta Tijuana, Medtronic Mexico, and Eaton. In 2010 Plantronics and DJ Orthopedics held the top two spots in the ranking.